Digitally printed and applied to the garment using high heat, vinyl printing produces vivid colours, crisp lines and a spectacular finish.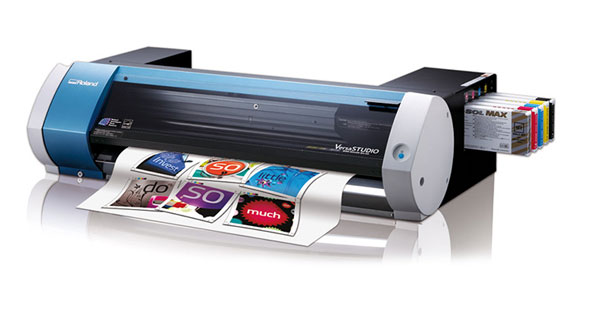 Your logo or design will be digitally printed, then applied to your chosen product at a high temperature to fix it in place.

Heat Transfer is the printing method of applying speciality types of vinyl to garments through a heat press. This vinyl can be applied as one layer or it can be layered for complex designs.

Vinyl transfers can be used to print designs onto surfaces where the standard methods aren't able to reach, sort of a hat. They produce high-quality results on almost any quite fabric. Choose between a good range of colours, and have numbers or lettering cut out using our digital vinyl plotter with Roland BN 20 printer.
How Vinyl Heat Transfer Works
Firstly, your artwork is checked by our team to ensure it can be processed by our vinyl cutter. The coloured vinyl you pick is loaded onto the machine, and it perfectly scores the design. The cut design is then manually 'weeded' (unnecessary parts, like negative space and insides of letters, are removed) before it is pressed with an industrial heat press to permanently fix the design to your garment.

For a design with multiple colours, a digitally printed transfer is ideal. Digital prints also allow for reproduction on darker coloured clothing. The modern super stretch materials are bonded to the product and maintain their colour and glossy appearance for the life of the garment.
Best For
T-Shirts and Singlets

Hi Vis Workwear & Safety Wear

Caps and Hats

Sports Bags

Tote Bags - Cotton, Calico, Non-Woven Fabric

Umbrellas

Aprons

Towels

Blankets

Can/Stubby Holders
Things to Consider
Combed cotton and polyester garments work best with Vinyl Heat Transfer
Colour choices may be limited depending on the vinyl in stock.
Care is required when washing the garments – wash inside out, do not tumble dry and do not iron the logo
Designs must be supplied in vector format (AI / EPS files accepted) or converted before they can be cut.
Film may be noticeable around the outer edges of detailed designs, and have a slightly plastic finish.
Popular choice for team and sports uniforms, as it is ideal for printing numbers and names onto a single-colour design.
Vinyl Printing: How It Works

1. Place an order and upload your logo / design via the Class Workwear website.

2. We check your design to make sure it's compatible with our vinyl cutting machinery.

3. Negative space and other unnecessary parts of the design are cut away.

4. A heat press is used to permanently apply the design to your chosen garment.
Order your printed clothing
Vinyl Printing FAQs
What are the drawbacks of vinyl printing?
The print itself has a distinctly plastic feel to it, so it's best suited to smaller designs, not for use on an entire garment (dye sublimation would be recommended instead).
Due to the cutting process, vinyl transfers are not ideal for designs with rough or jagged lines.
Can get expensive for very small jobs, especially for larger logos, due to the labour involved.
Exposure to hot irons can damage the printed transfer.