Direct-to-garment printing (also known as DTG printing) is a great way to create colourful custom clothing.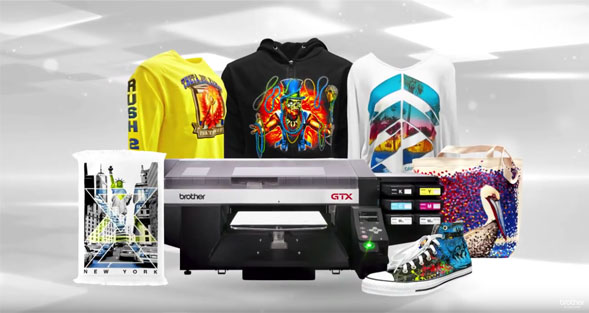 DTG printing is a bit like using an inkjet printer to apply a design directly onto the fabric of your chosen garment.

We use state-of-the-art DTG printers to produce high-quality printed garments with a professional finish. We also offer vinyl heat transfer printing if you want even crisper, more vivid results.
Direct-to-Garment Printing: How It Works

1. We start with a blank garment (usually made of cotton, as this gives the best results)

2. In some cases, the garment will need to be pre-treated before printing. This ensures that the ink sits on top of the garment rather than penetrating through the fabric.

3. Next, we take the custom image that you uploaded when you placed your order and print it directly onto the garment using our advanced DTG printing machinery.

4. Finally, we 'cure' the – this involves the use of heat or UV to ensure that the printed design is made permanent.
Order your printed clothing
How Much Does DTG Digital Printing Cost?
The cost of your embroidered products will depend on the size of your design and the level of detail it requires.
We offer bulk discounts, so the more applications you request, the less you pay for each application.

EXAMPLE: You order ten T-shirts, each featuring two printed designs. Since each T-shirt requires two applications, you will be charged for 20 applications in total, at a cost of £5.00 per application.

Our prices are as follows:
Number of Applications
Price Per Application