EASY 3-STEP ORDERING PROCESS
Step 1 – Add your garments to the basket
Choose from our wide range of T-Shirts, Polo Shirts, Sweatshirts, hoodies, caps and many more. Click on your chosen item to open the product page, select the size and colour you require and then click the add to basket button. Repeat for all the items of customised clothing you require..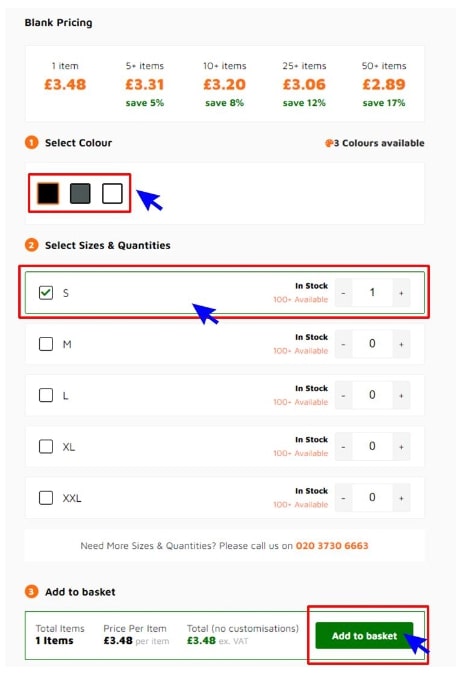 Step 2 - Customise your items
Customisation Process
If you are already a customer of us, then just login here to your existing account with us. Then you will able to use your previously used logo or start with a new customisation.
If not just start with proceed to the step 1 (Choose Artwork) and proceed to the last step for the checkout. Our system will guide you with step by step throughout the process.

Choose Application Method:

Simply choose your preferred method as Embroidery or printing then click "Continue" button to proceed to the next step
Choose Application Type: Choose you type of personalisation it can be just text or with your logo.( or artwork).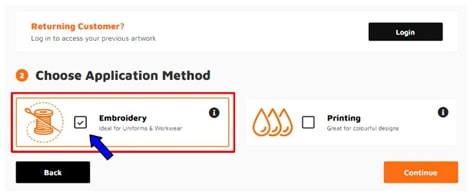 Logo: If you selected application type as logo then you will able to upload your logo or artwork online or even you can email us after placing the order.

Text: If you selected application type as text then you can add up to 3 lines of text and you will also able to choose proffered font and the colours online.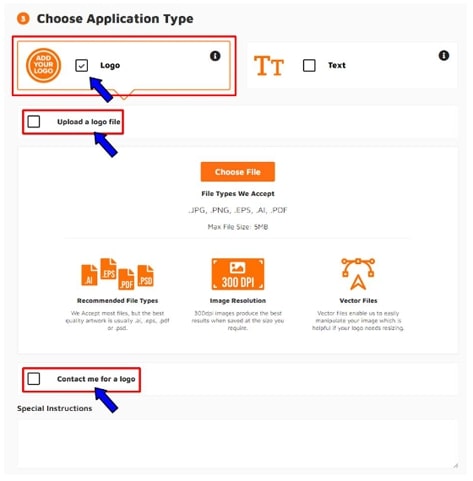 Choose position(s): In this step you will able to choose your preferred location for your text or logo to be added. You will able to select single or multiple locations as you wish. But customisation locations are depending on the type of the garment. Once you select you positions then click on "Confirm/Add to basket" button to the checkout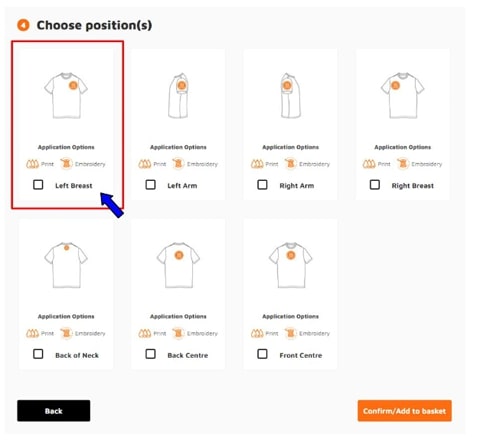 Step 3 - Checkout
Follow our simple checkout process to complete your order. First select your delivery address, then select your billing address and enter your payment details. Finally click the "Proceed" button to complete your order. A success page will be displayed detailing your order and also allow you to print off a printable version of your order. And we will also send you email confirmation.
Further Help
If you have any questions about artwork, don't forget you can contact our friendly UK based customer service team at any time. Click here to contact us.